Thirst Fix Hydrating Gel Cream








Product description
Enjoy smoother, beautiful looking skin thanks to the burst of moisture that comes from every application of this oil-free facial hydrating gel cream.
It features a blend of bioadaptive botanicals that helps increase your skin's natural resilience, protecting it against the adverse effects of environmental stressors, and a unique biomimetic moisturising complex that provides long-lasting hydration* by mimicking natural elements in your skin.
Nutricentials Thirst Fix delivers rapid hydration that's perfect for thirsty skin, providing a refreshing feeling you're sure to love.

Non-comedogenic
Suitable for all skin types

Lightweight texture
Why will I love it?
Results after one single application

subjects experienced +173% immediate hydration* and +104% hydration after 12 hours*
Why should I use it?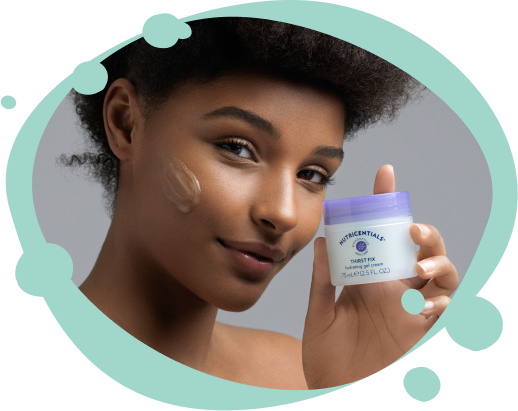 Bioadaptive botanicals help increase your skin's ability to adapt to its environment.
Provides immediate hydration and up to 24 hours of continuous moisturisation.
Helps protect against, and increases your skin's resiliency to, the negative effects of stress, pollution, and oxidative stress.
Rapidly hydrates and refreshes skin.*
Helps skin attract and capture water to keep necessary moisture*.
Helps soothe the skin and balance excess sebum caused by environmental stressors such as fatigue, stress, and pollution.
How should I use it?
Apply a generous amount onto clean face and neck in an upward, outward motion. Use daily, morning and night.
Key ingredients

• Bioadaptive Botanical Complex – a blend of five botanical extracts from plants that thrive in extreme climates. Includes Rhodiola rosea, maral root, Chaga mushroom, resurrection plant, and Siberian ginseng.
• Biomimetic moisturising complex – sugars and moisturisers found naturally in the skin which help attract and capture water for improved skin barrier function and fast, long-lasting hydration.
• Cat's whisker (Cleome gynandra leaf extract) – a botanical extract that helps soothe the skin and balance excess sebum caused by stressors such as fatigue, stress, and pollution.