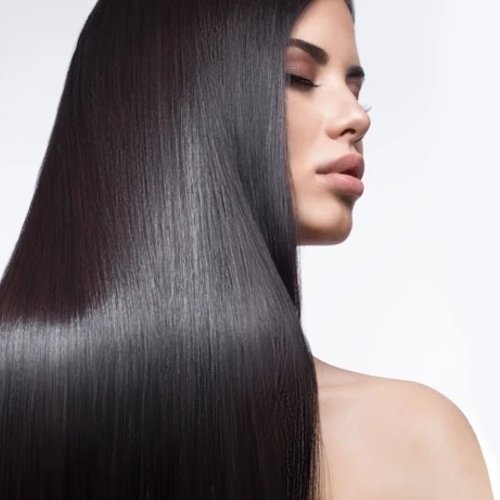 BOTOX & BRAZILIAN KERATINE
A keratin treatment, also called a Brazilian blowout or Brazilian keratin treatment, is a chemical procedure usually done in a salon that can make hair look straighter for up to 6 months. It gives hair an intense glossy shine and can reduce frizz. The process involves first rinsing your hair and then applying the keratin treatment to wet hair, where it stays for about 30 minutes.
THE TREATMENT
Step one is to wash the hair thoroughly with MaxLiss purifying shampoo to open the hair cuticles.
After 80% blow-drying, we divide the hair into 4 or 6 parts and one of the keratin treatments from MaxLiss is carefully applied / massaged and combed through, so that it is absorbed into the hair. We let the keratin work for 40 minutes.
After the application time of 40 minutes, the keratin treatment is carefully rinsed and we blow-dry your hair style. Then the hair is sealed 10 to 12 times per strand using a flat titanium iron.
Step 3 can differ in the dryness of the hair. We then leave the keratin in the hair after sealing and we ask the customer to make an appointment a day later for the follow-up treatment or may do the follow-up treatment with the after care products at home.
TREATMENT TIME
The treatment takes, depending on the hair types, length and amount of hair, about 4 to 4.5 hours.

If you're not sure if a keratin treatment is right for you, weigh the pros and cons below.
Possible benefits of keratin treatment
The body naturally makes the protein keratin - it is what hair and nails are made of.
Certain shampoos and conditioners contain keratin, but most of the time you'll get the greatest benefits from a salon treatment by a professional. Advantages of a professional keratin treatment or a treatment at home can include: Smooth, shiny hair. Keratin smooths overlapping cells to form strands of hair, which means more manageable hair and less frizz. This ensures hair that dries with little frizz and looks shiny and healthy. Keratin can also reduce the appearance of split ends by temporarily bonding hair back together.
Long lasting results
As long as you provide a keratin treatment by not washing your hair too often (2 to 3 times a week is sufficient), your keratin treatment can last up to 6 months.
More manageable hair
Keratin treatments make hair more manageable, especially if your hair is particularly frizzy or thick. If you constantly heat your hair, you will notice that your hair dries faster with a keratin treatment. Some people estimate that keratin cuts their drying time by more than half.
Your hair can also grow healthier and stronger because you can air dry it more often, protecting it from heat damage.
Hair growth
Keratin can strengthen the hair so that it doesn't break down easily. This allows the hair to appear to grow faster because the ends do not break off.
Products
MaxLiss is the only brand that uses the benefits of the amino acids, hyaluronic acid and Prodew500® to mimic the keratin molecule for optimal hair regeneration. MaxLiss is very innovative due to this exclusive composition.
The innovative formulas of the keratin treatments Crystallization, Crome and Actives of Marocco are quickly absorbed by the hair and restore the hair intensively and efficiently. The latest formulas also shorten the application time without any loss of quality and do not contain formaldehyde, parabens, gluten and carbocistein;
have a short treatment time (drying after application, pliers after rinsing);
are suitable for all types of chemically treated hair (bleached, straightened, etc.);
are suitable for all hair types.