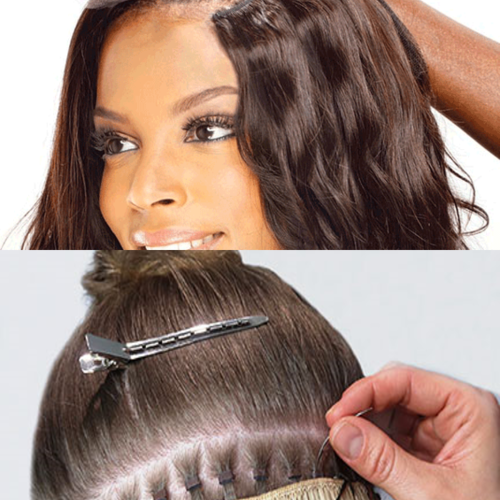 HAIRWEAVING
Would you like a little longer or fuller hair?
There are a lot of techniques to attach weave including hair weaving or micro-ring extensions / sew-in. This is a perfect solution for volume or extension. Your own hair is braided with cornrows on your scalp. Then the weave strips are attached to it with a needle and thread.
The micro ring system also exists. These are most commonly used on European hair. With this technique fixes a tuft of hair (i-Tip) with micro rings. Both techniques are safe for your own hair.
With hair weaving and micro ring, our main goal is to spare your own hair from damage and ensure that the hair can continue to grow while weave paths or micro rings are attached.
Microring Sew-in
Would you like a full head of hair with extension and thickening? Then the microring extensions are for you!
Microring Extensions method is a permanent hair extension that is attached to the hair without heat with micro rings. A hair extension with the micro ring extensions you can easily and quickly create extra volume and length. A big advantage is that the extensions are reusable and can be repositioned.
Microrings
Advantages of micro ring extensions
Quick and easy to fix in the hair
The extensions are reusable, only the micro rings need to be replaced
Easy to remove with the Great Hair multi-pliers.
Without heat treatment is completed within one hour.
Advice
We recommend that you use the recommended care products at all times. These products have been specially developed for our extensions. Prevent complaints and achieve the maximum wearing time by using these products.
Wash the extensions at least once a week. To preserve the quality of the hair. You can wash your own hair on top of your head more often by tying the extensions in a ponytail.
How long does a microring extensions last?
The duration of the extensions depends on several factors. The hair lasts an average of 8 to 12 months and some much longer. In general, you put the extensions back up for 6 to 8 weeks.